5. Anti-Terrorist Operation against Anarchism in Madrid [14·05·2019]
6. Statement of the anarchist compañeras arrested on May 13 [20·05·2019]
---
1.

Release
On Monday the 13th of 2019, the National Police force joint by the
Madrid province's Information Brigade, broke in two squatted buildings in the district of Tetuan (Madrid). Both locations are dwelling houses, and one of them is also a public political space known as EOA La Emboscada.
The police holds the people which were inside of those two places while they search for any material inside the houses, filling up several boxes with clothes, tools, notebooks, journals, USB pen drives, mobile-phones, etc.
They also open-up the computers to get the hard drives out and try to clone the memory cards to finally seize practically all electronic devices they find. After six hours, the search finishes and the police arrests two persons under the accusation of terrorism.
After passing one night inside one of the cells of Moratalaz police station (Madrid), they are moved to a cells of the National Court to be brought to the judge on the following morning. After this, the two
persons are set free until trial.
After several months, the case pre-trial proceedings are disclosed and is only then when the precise information about the accusation comes to knowledge.
Since 2017, the Madrid Province's Information Brigade has been
researching several attacks such as the arson of cars owned by security enterprises, set-up of explosive artifacts in banks offices, breaking crystals of political parties headquarters, and vandalism against real-state offices. There are more than ten actions since 2017.
The accusation of terrorism is justified only by the existence of an ideology behind those actions.
The group Quemando Arcas (Burning Arks) is the result of the solidarity with the comrades accused by the police operation "Arca". Our objective is the creation and spread of content about the repression, the effects of repression, and the solidarity. We understand that this operation is an attack against the anarchist movement as a whole, and we want that the fight of our comrades against repressions to be a fight not only fought by them but by everyone. We do not pretend to supplant the voice of nobody: All the texts you find here are only our opinions, and these are built through a collective process in the wake of Arca's police operation.
To us, is irrelevant if to the eyes of the State our comrades are innocents or guilty, criminals or terrorists. We will not legitimate it's judicial and political system nor this spectacle created by their own interest. The only definition that we do recognize, and in which we recognize ourselves is "Anarchists", since we fight to regain our lives and our autonomy in opposition to this authoritarian system.
To us, the best way to support and show solidarity is by keep fighting for our common goals, and that's why these comrades and so much others, hit by the system everyday, are present in these fights, and inspire this fights.
To those that fight, receive a nod full of complicity, regardless if they are criminals, terrorists, or simply anarchists.
Their jails can't stop us.
---
2. Pamphlet
About Arca Operation
On May 13th, 2019 the police assaulted two anarchist's houses and the anarchist squat La Emboscada, both in Tetuán Distruct (Madrid). On the one hand, with the assignment of arresting this comrades under the accusation of terrorism, without any explanation; and on the other hand, to make raids and search for any material that could serve for their investigations: anarchist propaganda, electronic devices, tools, contacts, notes, personal notebooks, clothes… This would be one of the first shows of that we have known as Arca Operation.
This operation revolves around the investigation of more than twenty different actions against security forces, banks, political parties and real estate companies; that have been claimed in counterinformation platforms since 2017, and about an "ordinary police search" on the comrades in the street, after which the police tried to accuse them of explosives possession and started to elaborate all these stories within their investigations.
This is also an attempt of outlining an ideological profile over the investigated people and criminalize their ideas and practices, beyond the concrete accusations related to illegal actions. The comrades are being associated by the police with the actions because of facts like assisting to demonstrations to support Lisa, visiting counterinformation websites… The causes argued the most by the police in their investigations are the solidarity with Lisa, the support to the struggle against G20 and the people that suffered repression because of it, and the struggle against speculation and defending squats.
The persecuted comrades face several accusations that, separately, some could mean punishments of up to 8 years of incarceration. They are also in situation of surveilled freedom while the trial begins, having to bear with police preventive measures, like having to attend court every two weeks and living under the forbiddance of leaving the country without a judge permission.
State's war against "anarchist terrorism"
For us, Democracy isn't nothing else that another authoritarian system disguised in diversity and tolerance costumes. Waving the flag of political pluralism that can be only expressed through the parliamentary system. Everything that remains outside this legal and methodological margin is persecuted and invisibilized.
In order to neutralize this dissent, the State uses the category of "inner enemy". A mechanism that was relatively easy to mobilize when it faced a bloody war against old army groups like ETA or GRAPO, Authoritarian revolutionary models that were loosing their contextuality and social support, and that have supposed to the State, unfortunately, a perfect paradigm in which develop repressive apparatus of exacerbated sizes.
From the 2000 and later on, we see how the context represented by this armed organizations start to disappear and give place to a new stage. Once extinguished this organizations, the State's need of keeping their inner enemy and perpetuate their repressive apparatus doesn't cease. There are still hundreds of resources and police officers involved in this fight, that starts to loose meaning for the society.
Now the power reformulates its speech and gives relief to "new threats" as Resistencia Galega for instance, "anarchist terrorism" or "yihadist terrorism". We can clearly see this clumsy attempt of adapting old shapes to the new circumstances in Operations like Pandora, Piñata and Ice. In this antiterrorist operations, the police tries to make of the anarchist movement an organisative structures analogue to ETA's ones, as well as atribute the anarchist movement Al Quaeda-like guerilla practices. Nevertheless, from the 42 people accused of terrorism in the last operations, 40 causes have been archived or absolved.
Independently if there are anarchist comrades that take pacific or violent strategies, the anarchist movement is diverse in practices and ideas, and its organisative formulas have nothing to do with the hierarchical structures and methods of ETA or Al Quaeda. The police made the effort to investigate the anarchist networks but all attempts to attribute them the attacks of the last years broke down. Everything ended up in a grotesque ridiculous in a police and mass-media level. Nevertheless, State efforts to convert the anarchism in the new terrorist threat don't cease, and nowadays there are comrades suffering raids and police harassment in this new attempt to break down any practice or idea that questions the basis of the system.
The struggle against G20
During 5th, 6th and 7th July, 2017, the heads of state from the most powerful countries in the world met up for a new summit of G20 in Hamburg. As a response, the city was taken during these days by thousands of people to protest and attack. There was demonstrations, blockades, sabotages, riots, attacks and fights with the police.
After the mobilizations, it started a repressive wave that was triggered these days with hundreds of people arrested and dozens of comrades in prison, and followed with raids and detentions in the following months in France, Italy, Switzerland and the Spanish State.
On April 13th 2018 German police launched a pan-european search of 24 suspects, sending a list of pictures of people until then unknown.
On May 29th 2018 there were three raids in Madrid. Framed under an european coordinated police operation with raids in Italy (in Geneve and Rome); Switzerland (a comrades house was assaulted in Bremgarten); and in France where they were looking for three comrades.
Later, on October 19th 2018 there was a new police operation of the National Police joined by the German Federal Police that happened in Madrid and Palencia.
Many comrades have been in preventive prison or stay waiting for a trial. At the same time, solidarity have been notable in Europe and around the world taking the form of demonstrations, agitations and attacks. Some of those, that happened in Madrid, are under investigation in the frame of Arca Operation.
"Their repressive blows must be responded. The only horizon we have on mind is the continuation of the struggle. Hamburg was a spark, a flash, the trace of a conflict, of a social war. A war that will continue until the total destruction of capitalism, State and authority."
"The boost that drove us to light fires, stone and loot during those days it's the same that today keeps moving our heartbeat. Therefore we don't understand a better way to show solidarity than spreading the attack".
The case of Aachen's bank robbery
On April 13th 2016, three raids to houses occurred in Barcelona, that gave place to the arrest of an anarchist. The comrade was accused of participating in an assault to a Pax-Bank office (Bank linked to the Vatican), occurred in Aachen (Germany) in November 2014. Because of this, she was placed on preventive prison in Madrid until June 30th, date in which she was extradited and carried to the Ossendorf prison in Germany.
After that, on June 21st 2016, the Catalan police (Mossos D'esquadra) arrested another anarchist in Barcelona accused of participating in the expropriation of the Pax Bank office. He was carried to Madrid, where the National Audience ordered preventive imprisonment for him and after some weeks he was transferred to Germany.
The trial of the two comrades started on January 23rd 2017 and ended on June 7th. The result: absolution for him and the punishment of 7 and a half years of imprisonment for Lisa.
The campaign for her freedom and her supporting group took the name "Solidaritat Rebel". With the motto "Neither Guilty Nor Innocent" because they didn't want to fall into the dichotomy in which justice system place us and because they support (and we do so) all the ways of making the State and the capitalist system that supports it tremble.
Since then, there have been dozens of solidarity calls and demonstrations, support and denouncement actions for their freedom. Among those, there are the actions for which our comrades are now accused in Arca operation.
"…for solidarity to not merely mean to accompany a judiciary process, but to point and attack the ones responsible of the hunt and imprisonment of our comrades. Banks, different countries police forces, collaboration between states and the catholic church continue being the main authorship of the accusation."
For further info: https://solidaritatrebel.noblogs.org/
Map of the sabotages claimed in Madrid by anarchists since 2017
17/03/17 – Sabotage to ATMs and different companies
24/03/17 – Incendiary attack against the National Police
27/03/17 – Arson of a security company vehicle
07/06/17 – Explosive in bank office
12/06/17 – Bank offices got dirty
30/08/17 – Paint against Benetton shop for the murder of Santiago Maldonado
4/10/17 – Sabotages against ATMs
27/12/17 – Sabotage against more than 10 real estate agencies locks
28/02/18 – Attack on a real estate agency
11/04/18 – ATM burned
17/04/18 – Damage on real estate agencies
26/04/18 – Attack against PP(center right wing party ruling in this moment) office
7/05/17 – Damage on real estate agency car
14/06/18 – Attacks on real estate agencies
21/06/18 – Arson of a bank office
21/07/18 – Arson of a security company car
16/09/18 – Sabotages against ATMs
27/09/18 – Damages in a real estate agency
17/10/18 – Attack against a real estate agency
9/11/18 – ATM burned
10, 11 & 12/11/18 – sabotages against ATMs
27/11/18 – Attack on the University against Genetic Engineering
8/02/19 – Vandalism on a fascist monument
28/02/19 – ATM arson
3/03/19 – "Carsharing" vehicle burned
8/03/19 – Burning barricade on the highway M-30
22/03/19 – Vandalism against real estate agency and betting shop
5/05/19 – Paint against PSOE (center left party) and IU (leftist party) offices
9/05/19 – Attack on a PP office
2019 May – Different sabotages on public rental bikes
6/07/19 – Real estate agency vehicle burned
29/07/19 – Rental motorbikes burned
15/08/19 – ATM burned
10/09/19 – Security company car burned
27/09/19 – "Carsharing" vehicle burned
13/11/19 – Sabotage on Madrid 29 office against COP25
9/12/19 – Sabotages against ATMs during COP25
10/12/19 – Burning barricades on A-2 and A-42 highways during COP25
11/12/19 – Sabotages against "carsharing" vehicles during COP25
10/01/20 – Santander bank vehicle burned
Last two weeks of december- Sabotages to around 50 rental motorbikes, 40 "carsharing" vehicles and a docen of ATMs, arson of two ATMs and 10 cars of different companies.
8/03/19 – Sabotage against Fertility clinic
* The actions emphasized on black are those that the police is investigating under the Arca Operation.
---
3. Video
---
4. Poster
On May 13, 2019, two comrades were arrested in Madrid; their homes and the EOA La Emboscada (an autonomous space) were searched by the police. Since then, they have been awaiting trial on charges of terrorism, and are being inv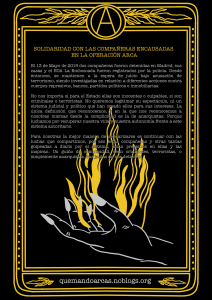 estigated in relation to various actions against repressive bodies, banks, political parties and real estate companies.
We don't care if they are innocent or guilty according to the State, if they are criminals or terrorists. We do not want to legitimize their spectacle, nor a judicial and political system that they have created for their interests. The only definition that we recognize ourselves from complicity, is that of anarchists. Because we are fighting to recover our lives and our autonomy in the face of this authoritarian system.
For us, the best way to show solidarity is to continue with the struggles we share, which is why these many comrades, beaten daily by the system, are present in them and inspire them. A wink of complicity, whether they are criminals, terrorists or simply anarchists.
Their cages do not stop us.
---
5. Anti-Terrorist Operation against Anarchism in Madrid [14·05·2019]
On the morning of May 13, a new antiterrorist operation against anarchism struck in Tetuán (Madrid).
The anarchist space 'The Ambush' [La Emboscada] and another squatter home were searched by members of the brigada de información [political police/special branch] and a squad of the anti-riot division. The operation ended with two people arrested.
In our minds are the operations of Pandora, Piñata, Ice and the operation that still keeps Lisa behind bars. More recently the European police operations in response to the revolt in Hamburg against the G20, or the arrests of last October 29, 2018 in Madrid…
In short: the blows of the State against the struggle. Faced with this, affection, solidarity, networks of affinity and the desire to never give up are weapons against fear and repression.
Stay tuned for more information and calls.
Neither innocent nor guilty!
Solidarity and struggle! 
Taken from: https://325.nostate.net/2019/05/14/anti-terrorist-operation-against-anarchism-in-madrid-spain/
---
6. Statement of the anarchist compañeras arrested on May 13 [20·05·2019]
In the early morning of May 13, an anti-riot unit was breaking into our homes and the anarchist space La Emboscada (The Ambush) – three weeks after its inauguration – together with the 21st group of the Provincial Information Brigade of Madrid, dedicated exclusively to spy and hunt anarchists. We were informed that they were bringing a search and arrest warrant for two of us on terrorism charges. During the search, which lasted approximately 6 hours, comrades from all over Madrid came to show their support.
Meanwhile, the police seemed especially interested in taking clothes with them: coloured and black coats, concrete coloured scarves, scarves, flower scarves, specific footwear; they were also interested in agendas, calendars, some notebooks, some annotations, notes between the pages of books, computers, hard disks, memory cards, usb, mobile phones, photographic and video cameras, CDs and DVDs, construction tools and, especially, hammers; as well as stickers, patches and T-shirts of the brand M.A.L.P.; posters and propaganda in relation to the G20 counter-summit in 2017.
During the investigation, which has been ongoing since March 2017, emails, mobile phones, tablets, whatsapp, icloud, dropbox and communications in general have been tapped. For now we have no more information, as the investigation continues under secret summary. We were held for 32 hours and, although there were times when the situation was confusing and unfavourable, any sadness or fear became insignificant when we came out and saw the support and solidarity we received from our compatriots and friends.
Because although the State comes for us, the ideas and practices they pursue are unstoppable and multiply in each gesture of solidarity. And although we do not know what we are accused of, we are very clear about what we are and why we are being persecuted: and we do not regret nor will we ever regret being anarchists.
Repression has always been on the lookout for those who fight but throughout our lives it has given us strength and encouragement to know that there were anarchists all over the world and people who shared our affinity and, to live this in the first person and meet so many people, it has been very nice and meaningful for us.
No anarchist will be alone as long as there are compas who continue to fight.
A hug to Embers, who was arrested on May 1st in Paris and is still in prison along with many others. And to all the other anarchist prisoners and prisoners in struggle, which we do not forget. 
Taken from: https://en.squat.net/2019/05/20/madrid-statement-of-the-anarchist-companeras-arrested-on-may-13/